Registration
Now Closed!
Live Event – Nov 3rd, 6pm @ Nova!
To kick off the HSBN Fall Classic tournaments across South Florida HSBN will be holding its annual Home Run Derby on November 3rd at 6pm @ Nova high school. The 2012 champion will win a free entry into the 7th Annual Power Showcase being held at Marlins Park on Dec 27th-30th, 2012.

The derby will be an open bat format (BESR allowed) – with two rounds. The first round each player will get 15 outs. The top 7 leaders in home runs after the first round will compete in the championship round where each batter will get 10 more outs.

The player with the most home runs in the second round will be crowned the 2012 HSBN Home Run Derby Champion and will get a free entry into the Power Showcase.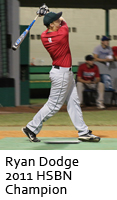 What:
2012 HSBN Home Run Derby Power Showcase Qualifier
When:
November 3rd @ 6pm
Where:
Nova High School (Davie)
Who:
Open to all high school players.
Deadline to Enter:
Lineup Is Now Full – Sorry!
Entry Fee:
– Registration Closed
Gifts:
All entrants will receive an HSBN/Power Showcase Home Run Derby T-Shirt
Prizes 4:
Overall HR Total, Round 1 HR Total, Longest HR, Most Consecutive HRs
Winner Prize:
Free Power Showcase Entry ($1,300 Value)
The Power Showcase is a four day event featuring 120 of the top high school players from 20 different countries. It culminates with an explosive Home Run Derby on the final night!
What: 7th Annual POWER SHOWCASE
When: December 27th-30th 2012
Where: Miami Marlins Stadium
Prize: Fame!
Former Power Showcase Participants
- Bryce Harper (2009)
- Dante Bichette, Jr.
- Daniel Vogelbach (Record 504 ft HR)
- Ryan Dodge (2011 HSBN Qualifier Winner)


2012 HSBN Home Run Derby Participants
| Player Name | Grade | School Name |
| --- | --- | --- |
| Jonah Dermer | Junior | Miami Beach Senior |
| Elias Macias | Senior | Everglades |
| Henry Perez | Senior | Hialeah Senior High |
| Christian Khawam | Senior | Miami Southridge Senior High |
| Cristian Perez | Senior | Columbus |
| John Marousky | Senior | Piper |
| Andrew Hernandez | Senior | Everglades |
| Anthony Dos Santos | Senior | Everglades |
| Kristopher Taveras | Senior | Everglades |
| Tre Dingus | Senior | Coral Springs Colts |
| Louis Corrales | Senior | Westland Senior High |
| Ryan Dodge | Junior | Flanagan |
| Danny Pardo | Senior | West Broward |
| Matt Fengler | Senior | Pompano Beach |
| Jesse Gonzalez | Senior | Pembroke Pines Charter |
| Julian Pino | Senior | Chaminade Madonna |
| Carlos Rodriguez | Junior | Western |
| Derek Fritz | Senior | Douglas |
| Miguel Ceballos | Senior | St. Brendan |
| Henry Knez | Senior | St. Brendan |
| Laurant Polenghi | Senior | St. Brendan |
| Fabian Pena | Sophomore | St. Brendan |
| Max Guzman | Freshman | St. Brendan |
| Christian Demby | Sophomore | St. Thomas Aquinas |
| Andrew Colangelo | Senior | St. Thomas Aquinas |
| Anthony Penas | Senior | Westwood Christian |
| Claudio Rubiera | Senior | Westwood Christian |
| Luis Diaz | Senior | Westwood Christian |
| Jose Suarez | Senior | Westwood Christian |
| Alec Byrd | Senior | St. Thomas Aquinas |
| Eric Hepple | Junior | Zion Lutheran |
| William Fabra | Senior | Belen Jesuit |
| Anthony Vargas | Sophomore | Piper |
| Gregory Snyder | Freshman | Piper |
| Michael Paez | Senior | Miami Sunset |
| Benito Santiago | Junior | Coral Springs Christian |
| Roberto Hernandez | Senior | Westwood Christian |
| Player Name | Grade | School Name |
| Player Name | Grade | School Name |
| Player Name | Grade | School Name |