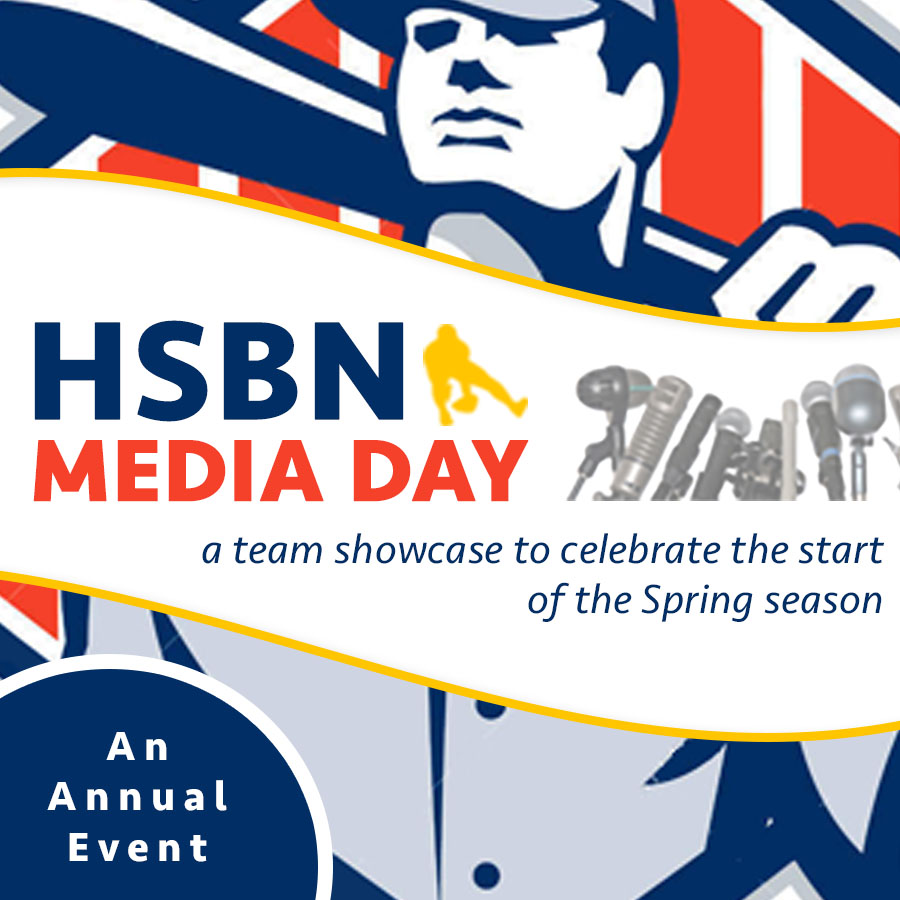 What are the HSBN Media Day Weekends?
An annual event put on by HSBN to showcase every team and every player in South Florida!
Each team will go through registration, run 60s, take I/O, have exit velos recorded, and have a press conference to preview their season, which will be streamed on HSBN Live!
Featuring great food, generous vendors, and music to keep the energy high, the HSBN Media Day Weekends will celebrate the start of the 2023 high school baseball season with an event like none other in the country.

When and where will it be?
– January 28th @ South Fork High School
– February 4th & 5th @ South Broward High School
– February 18th & 19th @ Piper High School
Why are we doing it?
1.
To celebrate the start of the 2023 HS baseball season
2.
To collect team rosters, take photos and update full data on every player for HSBN profiles
3.
To record 60 yard dash times for every player
4.
To preview area teams for the 2023 season
5.
To showcase infield/outfield pregame for each team
6.
To showcase each player's swing for MLB and collegiate scouts in the batting cages
7.
To provide parents and players an interactive preseason event like no other
Who is it for?
All Space Coast, Treasure Coast, Palm Beach, Broward and Miami teams, collegiate and MLB scouts, parents and fans.
Admission
Daily = $10
FREE for participating high school players, coaches and children under 8!
How will it work?
1. Each coach will
contact us
to choose an available time spot below.
– Teams MUST wear uniform shirts and hats for each part of the day.
2. Teams will arrive 30 minutes prior to time listed in chart below.
3. Teams will report to registration area where player data will be collected (20 minutes)
4. Teams will move to warm up field for warm up and 60 YD & 30 YD times (20 minutes)
5. Teams will head to main field to take infield/outfield pregame (12 minutes)
6. Teams will hit in the batting cages and press conference will be held (15 minutes each)
7. More exciting features might be added as the event date approaches
Here is an example of what the day will look like for each team:
10AM – Introduction Video from HSBN
10:10 – Registration
10:25 – Warm Up Legs
10:40 – 60-Yard Dash
10:55 – Warm Up Arms
11:15 – Infield/Outfield
11:30 – Batting Practice in Cages & Exit Velocities
11:45 – Press Conference streamed live on HSBN Live!
Daily Schedule * Teams are required to show up 30 minutes prior to registration time!
Sat Jan. 28th @ South Fork High School
| Jan. 28th | :00 * | :15 * | :30 * | :45 * |
| --- | --- | --- | --- | --- |
| 12pm | Benjamin | Lake Worth | Jupiter | Dwyer |
| 1pm | John I. Leonard | Suncoast | South Fork | Jupiter Christian |
| 2pm | PB Gardens | Open | Open | Open |
| 3pm | Open | Open | Open | Open |
| 4pm | Closed | Closed | Closed | Closed |
| 5pm | Closed | Closed | Closed | Closed |
| 6pm | Closed | Closed | Closed | Closed |
* time past the hour
Sat Feb. 4th @ South Broward High School
| Feb. 4th | :00 * | :15 * | :30 * | :45 * |
| --- | --- | --- | --- | --- |
| 9am | Closed | Closed | Closed | Closed |
| 10am | Fort Lauderdale | Westminster Academy | Doral | South Broward |
| 11am | Palmer Trinity | Taravella | Dade Christian | Mater Academy |
| 12pm | Lake Worth Christian | Everglades | Break | Break |
| 1pm | Hialeah | ABF Hialeah | ABF Homestead | McArthur |
| 2pm | South Miami | LaSalle | Miami Sunset | COHEA |
| 3pm | Western | Flanagan | Pine Crest | St. Brendan |
| 4pm | PB Lakes | St. Andrew's | Miami Springs | Open |
| 5pm | Closed | Closed | Closed | Closed |
| 6pm | Closed | Closed | Closed | Closed |
* time past the hour
Sun Feb. 5th @ South Broward High School
| Feb. 5th | :00 * | :15 * | :30 * | :45 * |
| --- | --- | --- | --- | --- |
| 9am | Closed | Closed | Closed | Closed |
| 10am | University School | Pines Charter | Somerset Academy | Cooper City |
| 11am | Dr. Krop | Somerset Stallions | Ferguson | Chaminade |
| 12pm | TERRA | St. Thomas | Break | Break |
| 1pm | South Dade | Archbishop Carroll | Braddock | Westwood Christian |
| 2pm | Coral Gables | Miami Beach | Open | Open |
| 3pm | Pompano | Open | Open | Open |
| 4pm | Spanish River | Open | Open | Open |
| 5pm | Closed | Closed | Closed | Closed |
| 6pm | Closed | Closed | Closed | Closed |
* time past the hour
Sat Feb. 18th @ Piper High School
| Feb. 18th | :00 * | :15 * | :30 * | :45 * |
| --- | --- | --- | --- | --- |
| 9am | Closed | Closed | Closed | Closed |
| 10am | Santaluces | Coral Glades | South Plantation | Cypress Bay |
| 11am | Deerfield Beach | St. John Paul | Boca | Monarch |
| 12pm | Archbishop McCarthy | Goleman | Break | Break |
| 1pm | Nova | Calvary Christian | Schoolhouse Prep | Olympic Heights |
| 2pm | Glades Day | Seminole Ridge | Open | Open |
| 3pm | Open | Open | Open | Open |
| 4pm | Miami Senior | Open | Open | Open |
| 5pm | Closed | Closed | Closed | Closed |
| 6pm | Closed | Closed | Closed | Closed |
* time past the hour
Sun Feb. 19th @ Piper High School
| Feb. 19th | :00 * | :15 * | :30 * | :45 * |
| --- | --- | --- | --- | --- |
| 9am | Closed | Closed | Closed | Closed |
| 10am | Sagemont | Open | Open | Open |
| 11am | Heritage Delray | Open | Open | Open |
| 12pm | Trinity Christian | Open | Break | Break |
| 1pm | Open | Open | Open | Open |
| 2pm | Open | Open | Open | Open |
| 3pm | Open | Open | Open | Open |
| 4pm | Closed | Closed | Closed | Closed |
| 5pm | Closed | Closed | Closed | Closed |
| 6pm | Closed | Closed | Closed | Closed |
* time past the hour