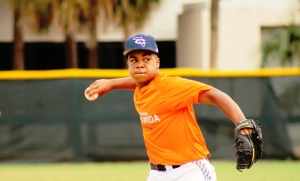 Photo Gallery
The opportunity to play on a college field provided plenty of spark for the young Futures Players competing in the HSBN All American Weekend games Sunday at Alex Rodriguez Park at Mark Light Field at the University of Miami. Performing on a grand stage in front of fans and Hurricanes coaches, the players on both sides showed just how bright the future could be should some of them end up playing there again as college athletes someday. Getting a taste of that experience fueled many players to rise to their best and seize their moment. "We are playing in front of scouts and the school in your hometown where you want to play someday," said iMater freshman catcher Roberto Moya. While many participants call South Florida home, numerous others came from further away to enjoy this chance to play at this stadium and compete with the other HSBN Futures Players.
"I got to see different talent from everyone and it was just a learning experience for me," said Justin Turk, who came from Steinbrenner High in the Tampa area. "The coaches got to see us and it was a great experience for me to get to show my talent."
Following a weekend that began with a home run derby presented by the POWER SHOWCASE, followed by workouts at St. Thomas University, players converged at UM for Sunday's live games. The day began with two contests from the HSBN Futures Stars groups.
Green Team 2, Orange Team 0
Despite flirting with danger all game long, the Green team managed the shutout even though the Orange squad collected eight hits. The Orange team only put two runners past second base and struggle against the Green's pitching throughout. Mater Academy's Ramses Hernandez got things going with three strikeouts in the first inning and then an RBI double in the second that gave his team the lead. Hernandez allowed consecutive singles to Archbishop McCarthy's MC Sagaro and SLAM's Anthony Nunez before working out of the threat. After Archbishop McCarthy's JM Fay singled up the middle and advanced on a fielder's choice, Hernandez sent a liner into the left-center field gap.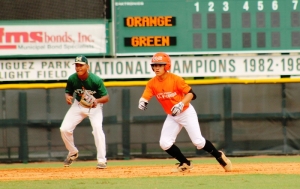 "It was a great experience for me and I hope I can do the same again next year," Hernandez said. "This was the best experience of my life." South Miami's Michael Cabo came home for an insurance run in the seventh. After reaching on an error, Cabo advanced thanks to a double from Southridge's Henry Wallen, then scored on an RBI single from Mater Academy's Alex Aguila. The Orange team's pitching staff was also tough to hit off to keep them in the game. Coral Reef freshman Victor Mederos turned the most heads with a fastball that reached as high as 92 miles per hours during a scoreless inning in which he struck out the side. Merritt Island's Chase LeBlanc, Coral Park's Julio Silva, Carlos Rodriguez and St. Brendan's Kevin Martin all picked up two strikeouts during their respective innings of work. Both sides also flashed some nice defensive abilities. Enjoying the advantage of the immaculate playing surface at the Miami Hurricanes' home, players were fearless in diving and going all-out to make a play. "It was a great experience playing at the University of Miami and it's an honor," said FLVS's Matthew Corlew, who made several impressive plays Sunday. "I was just going out there having fun and letting loose. I don't try to think too much about it; just go out there and do what I do. It is a joy and everybody is going crazy and slapping me high five. I love it."
Gray Team 5, Maroon Team 0
Eleven pitchers took a turn for the Gray squad and they all kept the shutout going for nine full innings. They combined to throw 91 pitches in all and watched nine batters strike out against them. "It was a great experience overall and I caught nine innings," said catcher Roberto Moya, who was behind the plate the whole way on Sunday to do his part in the shutout. "The pitchers looked great and we had a lot of fun, and there was no pressure. We played with no pressure and the weekend was great overall. The guys are nice and the coaches are friendly. They give you the chance and all you have to do is take the opportunity and take advantage of it." Florida Christian's Matt Fernandez led the way for the pitchers, striking out the side in his inning of work. John I. Leonard's Jordan Diaz, Falcon Cove's Jeremy Hernandez and SLAM's Chris Velasquez all tossed perfect 1-2-3 innings.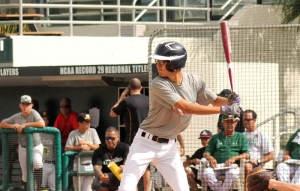 The Gray team took the lead in the fourth. Belen Jesuit's Gaby DeZendegui singled on a chopper past the shortstop, stole second and then advanced to third on a passed ball. Jordan Diaz followed with an RBI groundout that plated DeZendegui for the 1-0 lead. They added some insurance runs with two apiece in the seventh and eighth innings. Chris Velasquez singled up the middle and scored on an RBI from Glades' Derek Bermudez, and Moya reached on an error and scored in the seventh. American's Christian Carratala added a two-RBI single that plated Southridge's Brandon Cabrera and Falcon Cove's Jeremy Hernandez. The Maroon squad managed just four scattered hits by Belen Jesuit's Joshua Salandy, IMG Academy's Trip McKinley, Pompano Beach's Josue Zuany and Calvary Christian's Thomas White. "This felt like I made it to the next level and I want to play here and continue to play here," Salandy said. "I adjusted pretty quickly to the coaches; they were just there to aide us and get us ready to run on the bases. I got a lot of at bats and it was pretty good."