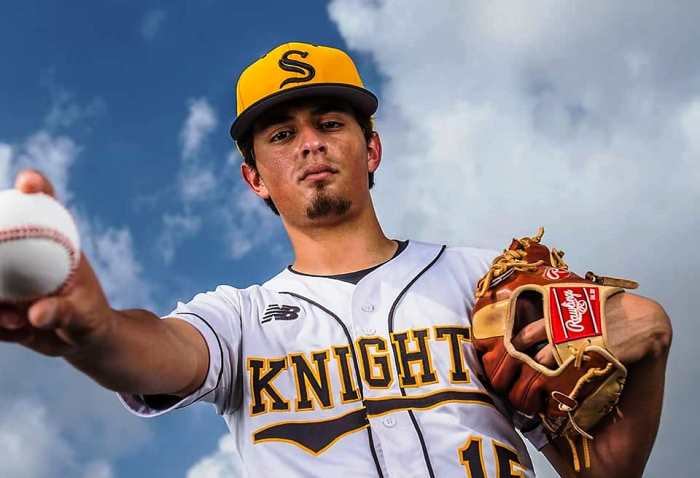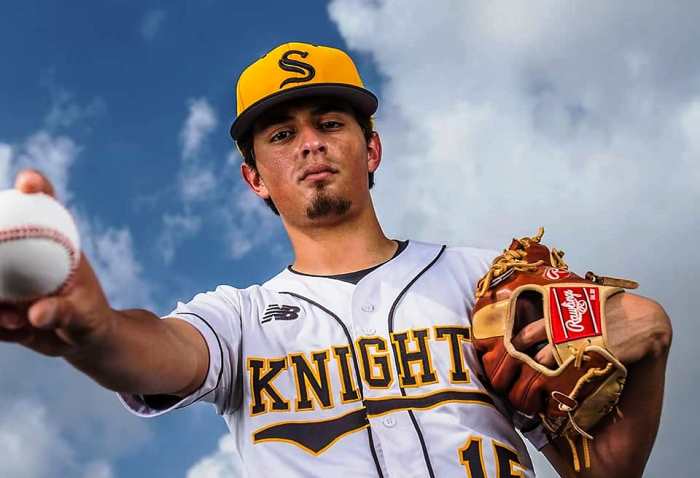 Ian Fernandez, #15 from Miami Sunset, is a pitcher that graduates with the class of 2020. Ian Fernandez was coming off a junior year where he had an ERA below two, and was building on that impressive resume when his season was cut short. Ian reflects on what this experience has meant to him.
Essay:
Like all students, I was caught off guard when school was canceled the week before Spring Break. At that time, it seemed we would be returning to school after the two-week layoff. Then we found out the season was being suspended. As the days went on, most of us started realizing we may never return to our schools to finish the school year, my senior year. Not going to lie, at first, having a few weeks off seemed like it would not be so bad. Now, like many, I find myself thinking about the things we had that maybe we didn't appreciate as much as we should have, and the things we may never be able to experience. There are a lot of things I really miss. I looked forward, every day, to hanging with my teammates during lunch. I miss seeing them, and my other friends during different times of the day, either in class, or in the halls. I miss seeing my girlfriend and spending time with her. I miss hanging out with my friends Riley and Luis every day after practice, eating at Burger King, WaWa, or Little Caesars, just before going to work out. I miss talking to my teachers about life. I miss the Saturday field work and BBQ with the players, coaches, and our families. I miss hanging out with the boys in the locker room, messing with each other. I miss our biggest fan Bolo keeping score. I miss the feeling of waking up and realizing I have a start that day. I miss talking to my dad after the games. But most of all, I miss the bus rides to the away games. If they cancel the season, I will be miss celebrating senior day with all the seniors. I will miss seeing what we could have accomplished as we were just starting to gel. I will miss my coaches, and I will miss my family and my girlfriend seeing me play. I will miss the feeling after a win. I am thankful that God put Miami Sunset High School in my path. There is no other school I would have wanted to have graduated from. I know this year will be written about forever, so in a way our senior class will never be forgotten. I know that closing schools and canceling baseball will not affect my relationship with my friends and girlfriend. I also understand I am not alone. Sports all over the country were canceled. There are millions of athletes like me, probably missing many of the same things I do. We can't spend time thinking and dwelling about what we miss or will be missing. We must appreciate the memories we have, maintain the friendships we have established, and understand that even though we will miss out on a few things, the best is yet to come.
Editors Note:
Seniors wanting to enter the competition, follow the link below:
HSBN Senior Essay Scholarship Competition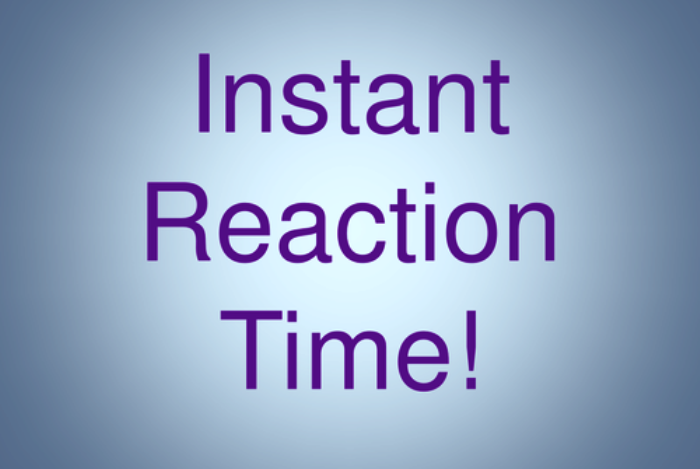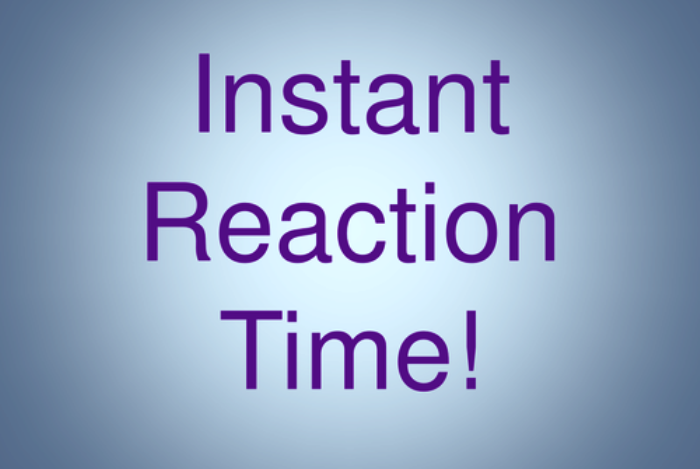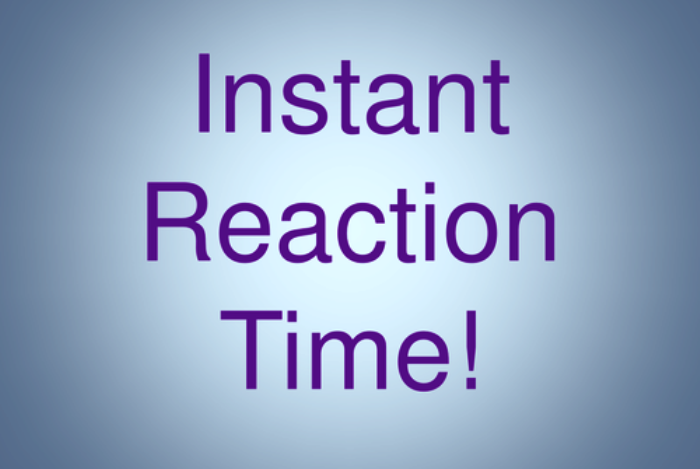 It has been a tough week for high school baseball here in the state of Florida. With all teams across the state shutdown indefinitely, we have reaction from coaches around the state…Enjoy!
"I think we are in uncharted times so whatever the decision making individuals decide as the appropriate measures for the health and safety of our citizens it is not an over reaction. Always error on the side of caution. History will decide if we as a nation handled this crisis the correct way. I hope as this health crisis plays itself out that everyone stays healthy and safe. As the days past I hope this is not a lost season and at some point baseball will resume maybe early summer if not sooner. Let's pray that wisdom and intelligence will prevail" – Nova Manager Pat McQuaid
"Right now the situation we are all in is so unprecedented, that there are a wide range of thoughts and emotions involved for both players and coaches. On one end, we hope the impact of this virus is minimal on our population and hopefully these precautions help in keeping the number of people affected to a very few. On the baseball end, we hope that we actually get back out there this season and our kids have a chance to have a season and a playoff run. Most importantly – On the grand scale of things, if our families come through it healthy then we should all be happy. This is definitely a once in a lifetime scenario we are living through; something none of us have been through before – it is horrible that kids in high school and college had, or might have, an entire season taken away from them. This is a true and serious eye-opener for anybody that may have taken the game for granted or not understood how precious every day is when we get to go out on the field together" – Belen Jesuit Manager Jerry Albert
"It is a tough situation all the way around. With all the uncertainty around us, I completely understand the decision to shut this down for the time being. I hope that things turn for the better and that we can somehow salvage this season for the players who have spent all this time preparing for the season, especially the seniors." – Tampa Jesuit Manager Miguel Menendez
"As a staff we always talk about not taking things for granted not only in baseball but in life. On the field, we Talk about stretching and throwing pre game with a purpose. During games we talk about Leaving it all on the field. Life is precious and you never know when it will be your last throw, last at bat and now for our seniors they might have played their last baseball game. There is still a lot of unknown, but we got to trust God's plan, our country's leaders, and rally and support each other and be thankful we live in the greatest country in the world." – Taravella Manager Joe Giummule
"I've been thinking about what I could give you as a quote but its just to depressing to think about it. It really sucks that the season is probably going to end because of this. But it is 100% the right thing to do. Hope everyone stays healthy." – Dywer Manager Alex Morales
"The obvious response is that it stinks and with each passing day I'm less confident we'll be able to get back out there. It's starting to set in how serious this will be and the sacrifices needed to get past it. I feel so bad for the kids in all sports who can't do something they love after school each day. Kids and parents count on that daily structure after the bell. Most will continue to make good decisions but some may not and that's a little scary…I hope they learn that things can be taken away quickly and that life doesn't always let you have a say. It's going to take time to get past the "life's so unfair" stage and when we do we can start reflecting on lessons learned and planning how to move forward." – Wellington Manager Scott Riddle
"While we are devastated by the news of the shutdown, we understand that the public health and safety should take top priority. That doesn't mean we aren't in pain because we don't get to compete right now because we are. I am heartbroken for my team, especially the seniors. We are hoping that everyone abides by the rules of social distancing so that we can flatten the curve of the spread of the Covid-19 virus so that we can maybe get back into classrooms and on the baseball field at some point. I'm hoping everyone stays safe and healthy and our thoughts go out to everyone affected by this global tragedy." – North Broward Prep Manager Brian Campbell
"A very unfortunate situation, not only for us the coaches but mainly for those seniors who might not have the opportunity to finish their high school careers like all the other players have before them. But in the big picture it is something that had to be done!"" – Sagemont Manager Armando Sierra
"This is a gut punch. In a year when our program has made its greatest strides and is making a mark, and our senior ace is one of the best in Miami, the rug is pulled out from under us. But, baseball is life. And this is a curveball. While all of us may lose a season, we have to endure and hope to play again in April." – Doctors Charter Manager Paul Calli
"I have to approach this thing with two mindsets. Obviously first and foremost I have to see and understand how this shutdown is the best decision for our student-athletes at the moment. As a coach I have to do what's best for the student-athletes and their health is my number one priority. I think it is ok at the same time to reflect on how unfortunate this is for student-athletes across the country. Being that Parrish Community HS only has freshmen and sophomore we were building something we were excited about for the future. We were learning and teaching lessons every day with the hope we'd see them pay off at the end of the year or in seasons to come. I want our boys to take from this shutdown that tomorrow is never promised. I want them to imagine what this would be like for seniors across the country. That's who I really feel for in a time like this." – Parrish Manager Brett Andrzejewski
"It is unfortunate and sad. I feel bad the seniors that have put a lot of time and effort into it, For a lot of the seniors it is there last chance to play baseball and they have worked there whole life to have that one last chance. I would hope the district and counties would do whatever they can to keep the season going even if it means having a very short season then playoffs. My biggest fear is they cancel the season. I would be in favor of playing the games in front of no fans before canceling the season…But in the end safety comes first so we need to wait and see." – Timber Creek Manager Tim Beaman
"Complete over-reaction. I'll leave it at that. Hard to tell 12 seniors just as we started to heat up that they may never put on an OH Lion jersey again. We can't practice, cant go on campus. Its miserable." – Olympic Heights Manager Casey Beck
"When we all join together, we maximize our efforts at stopping the virus from spreading. And that is our goal with this decision- to play our part in the community at stopping the virus from infecting more people. Our student-athletes understand this and they're doing their part, but I feel so bad for them, especially the seniors who will never get to suit up again." – David Posnack Athletic Director Wayne Stofsky
"Though I understand the concerns throughout the world concerning the virus, I am saddened that we have had to take these drastic measures. The look on the players faces was devastating when I had to inform them that the season has been postponed. I feel for the seniors who are in the last year of their high school career and are now wondering what the future holds for them pertaining to possible athletic and academic scholarships. Life has many challenges and we all have been challenged with this epidemic. This too shall pass. I just hope that it passes in time for our players to complete some type of season." – Palmetto Panthers Manager Danny Smith
"I am in shock on how fast this all happened. Too think if someone told us a few weeks ago this was coming and our entire world would be coming to a complete stand still. I don't think anyone would have believed it." – Palmetto Tigers manager Rich Glass
"The shutdown is really a sad thing for our baseball seniors but at the same time safety comes first!" – Miami Manager Edwin Bonilla
"The biggest thing everyone is dealing with is the uncertainty. At first many people didn't take it to seriously, but there has to be something to this with all of these suspensions and cancellations of sporting events and major companies changing hours of operation, CDC/health recommendations, etc. From a selfish standpoint and thinking solely about baseball, it affects the program when you think about the seniors and how they possibly played their final game already." – Braddock Manager Wesley Morejon
"I know this may feel scary because of the uncertainties but we will get through this and come out the other end of this stronger and united. This shutdown is only temporary but necessary to take care of ourselves." – Jupiter Christian Manager Ray White
"I recognize what a disappointing time this is for the players, coaches, parents and our fans. Our greatest priority is the health and safety of our community during these uncertain times. We need to do our part and follow all the safety guidelines. The healthier we get the sooner we can go back to our normal life." – Pembroke Pines Charter Manager Carlos Iglesias
"I think that this situation is unfortunate. It's a serious subject. Having a young team making the strides that we will be negatively affected by this stoppage. Weather it be for a couple of weeks or for the rest of the spring. Non the less we understand the precautions and will adhere to whatever the district says. Everyone should take the necessary precautions. Stay safe!!!!" – Miami Beach Manager Charlie Garcia
"The shutdown is definitely unfortunate. It's a situation that is out of the control of us as coaches and programs. I feel for the seniors who are losing a significant portion of their final season. Uncommitted seniors are losing valuable reps heading into summer ball as they search for scholarships and places to play next year. It's something we can't control, we just have to deal with it as it progresses." – Lake Worth Christian Manager Austin Johnson
"We work all year for this one season. I feel the worst for the seniors and the unknown if their high school careers are over. I will do all I can to support them and make sure they get what they need even if it falls into the summer months. This is not about championships at this time, it's about allowing those kids to finish their high school careers like all before them. It is all in Gods timing." – Calvary Christian manager Gil Morales
"Most important first is, It's tragic that our world is suffering through this. I hope we find a cure soon and everything going back to normal activity as soon as possible. Hope all that have been affected get well soon. On the baseball side, we have to take it day by day. I'm keeping close contact with my players to stay healthy, safe, and active till our season gets back underway." – TERRA Manager Steven Suarez
"We are in uncharted waters. It's unfortunate the pandemic has had this effect on professional, college, and now high school sports. We can only hope that high schools will be able to eventually resume. However, we must do what's best for everyone's safety." – Santaluces Manager Nick Franco
"I understand the situation, suspending the season is the right thing to do at this moment, but if they decide to cancel the season it will be a tragedy. So many kinds have so much on the line in the way of scholarship opportunities now and next year. Canceling the remainder of the season would not be good. I hope they reevaluate the situation and let the kids play. If they can attend school then they should be able to play sports!" – Coral Springs Manager Mike Federman
"We've got to try to stay positive and hopefully we can get back to playing maybe in 15 or 20 days because this is a difficult time for everybody. Hopefully everybody will stay safe." – Doral manager Ralph Suarez
"This is a game of adjustments, While this is a large adjustment that is not normal, my players are ready to meet the challenge head on." – Kings Academy Manager Jarrod Saltalamacchia
"Like a lot of individuals, it stinks. But sometimes life is bigger than just baseball. I feel really bad for the seniors because this might be the way their high school season ends. Hopefully things don't end, and we can have something at the end for the season." – Jupiter Manager Andy Mook
"I hate to see the baseball seasons being suspended but when you really look at it, it is the right thing to do. We need to protect the kids. The kids might survive the virus but if they carry it home and they have older parents or grandparents living with them that is the problem. Be proactive is the right thing to do." – Seffner Christian Academy Manager Sal Giardina
"Players and coaches very disappointed with the shut down of the season, however we do understand that the timing with spring break etc it makes perfect sense. With that being said, I hope calmer heads prevail and decision-makers remove themselves from the news media hype. Lets come back in April and play ball. 20,000 people die each year from the regular flu that's been here forever. The numbers do not support the media induced frenzy that we are experiencing. Life goes on and I hope we resume the athletic programs in the very near future." – Deerfield Manager Chuck Brown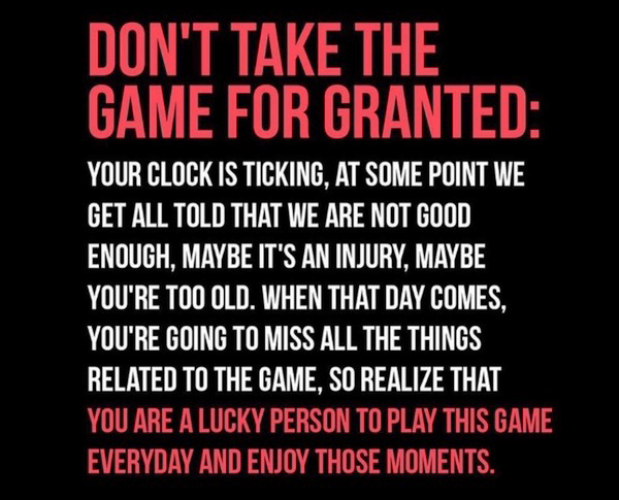 "I sent this to my players last Monday. As coaches we try to instill many teachings not only about baseball but about life. This is the first group of young men and women ( Seniors specifically) who simultaneously learn this very tough lesson, all is finite. It all ends. Relish the moment, appreciate what you have, don't waste your time, have a sense of urgency, you'll miss it when it's gone. Leave it all out on the field. Live without regrets." – Gulliver Prep Manager Manny Crespo
"The health and safety of our student-athletes, coaches, families, fans, and school community is of paramount importance. I support the decision to shutdown athletics and school until this epidemic is resolved. Every season a team goes through some type of adversity that attacks our resolve. Our program is based around love, family and faith. During this time we lean on these for guidance and remain steadfast in the belief the 2020 season will resume at some point. Until then my program, will use this time for personal growth, reflection and spend time with our families. I'm confident in our leaders both locally and nationally to make the best decisions possible for our future. I ask that everyone takes time to pray for our state, country and world." – Centennial Manager Phil Russ
"While it is frustrating to have our season ended due to unforeseen circumstances that were completely out of our control, we are happy that neither our players and coaches nor any of their family members are currently afflicted with the Covid 19 virus. We pray that these new safety measures continue to keep these people, and everyone else, safe from disease and that this world wide crisis comes to a swift end. We are saddened by the fact that our graduating seniors have lost the opportunity to play their final year of high school baseball but we remain truly grateful for the years that we have been blessed to work with them. We are very proud of the tremendous young men they have grown into and we look forward to observing their continued growth and development in the years to come!" – Palmer Trinity Assistant Coach Jeff Rose
"I was shocked at first when I heard the news. I have 5 seniors on the team and there is a possibility that they played their last high school game last week. But at the end of the day I'm more concerned about the safety of the players and this is the best thing to do at this time." – Glades Central manager Rene Leon
"The unprecedented impact of COVID-19 is requiring we all take stock in the positive impact we can make to it's eventual resolution. We are optimistic for the best possible outcome for our families, friends, teammates, and selves. It is disappointing after the weeks and in some cases months of work that have gone into the preparation for the season, but our guys are processing that in relation to the impact this crisis is having on our lives. We look forward to a return to normalcy and hopefully resumption of our season." – Community School of Naples Manager Chad Ott
"Unfortunately this situation is unprecedented so it is hard to determine the actual impact it will have but with a team comprised of 11 seniors this year, my heart really goes out to those guys. With that being said, hopefully we get to finish this year out because those kids deserve to end their high school careers on their own terms. This group of kids are very close with one another and this hiatus will definitely impact us but these kids are strong mentally and will overcome this regardless of the time it takes. I just hope everyone stays safe and the hiatus is minimal." – Coral Springs Charter Manager Charlie Fine
"Despite all that has happened, 'There is no Crying in Baseball'. It hurts for the outgoing seniors, but keep in mind that things change day-by-day, we will carry on and overcome together." – Dr. Krop Manager Paul Barrios
"It's been a difficult few days, going from no games to no practice to possibly having the season over. When coaches tell their players to play like it's your last game. Many seniors they may have played their last game. The great thing about baseball is there is always tomorrow. These are sayings we never thought would be true in the middle of March. Safety is always the number one concern for students and athletes so I understand, but it doesn't heal the heartache for the kids." – Palmetto Manager Nolan Lofgren
"It's wild how quickly this whole situation snowballed. If you had told me at this time last week we were in danger of losing our season – I would've thought you were crazy…but here we are. I feel for the seniors who have potentially played their last baseball game – to have it taken like this just plain sucks. But I suppose that it is better to exercise caution now than regret not doing so later." – Cardinal Newman Manager JR Edwards
"First and foremost my heart goes out to all of the seniors at all schools. From a personal standpoint, we hope and pray that this season is salvaged. Going 9-13 last year and getting off to an 8-2 start this year, we all felt like we were building something special." – Boca Manager Ken Muller
"As a first year head coach this can be a big blow to our program. We've worked hard to show these guys our culture and our new way of doing things, so to not have this rest of the season is certainly not ideal. I feel for our seniors, four of the five seniors we have are not moving on to play college baseball, so there's a chance they've played their last baseball game ever. This isn't the way I envisioned my first season as a head coach ending. None of us are sure what's going to happen in the coming weeks, I just hope everyone stays safe and healthy and we can get back to work as soon as possible." Pine Crest Manager Brett Scarberry
"I am very shocked by the situation. I absolutely agree with the decisions that have been made as I do believe that this is a very serious situation and it is better to be proactive than reactive. The hardest part is not knowing what to say to my players during this time. They have come together through so much adversity this year. They have committed to each other and to never giving up in route to the school's first multi-win season since 2011, just to have everything abruptly shut down in the middle of the season. I have never seen anything like this in my life. In all other situations, I feel like I know exactly what to say to them and I know how to get everyone on the same page. This time, I have no idea what to say or do." – Carol City Manager Anthony Ronco
"It is very disappointing to have the season halted, but when you look at the big picture you understand realize it is the right thing to do." – Hardee Manager Steve Rewis
"I hope everyone takes this is as serious as they should, and that we all come back in time to give the seniors a last hurrah. Our program, as I imagine everyone else's is, is shut down. We have asked our players to be diligent, follow safety precautions, and if possible, keep their arms and bodies is shape, just in case we are able to play baseball again. This situation has definitely reiterated just how fragile life is, and that we never know when our last game will be played. Hope everyone stays safe, and that we can all meet on the ball-field soon." – Keys Gate Charter Manager Rich Benevides

Dates: Tuesday, June 4th – Sunday, June 10th
Registration:
Registration is now closed for this event.
Schedule:
Tuesday, June 5th: Miami Player/Coach Meeting @ Florida Memorial (Baseball Field)
5:15
– Class of 2019
6PM
– Class of 2020
6:45
– Class of 2021 Players will receive their game jerseys, and meet with their coaching staff, as well as HSBN representatives. Players will also have a brief discussion with Florida Memorial Manager Tino Burgos.
Thursday, June 7th: Broward Player/Coach Meeting @ Nova High School (Baseball Field)
5:15
– Class of 2019
6PM
– Class of 2020
6:45
– Class of 2021 Players will receive their game jerseys, and meet with their coaching staff, as well as HSBN representatives. Players will also have a brief discussion with Florida Memorial Manager Tino Burgos.
Friday, June 8th – Class of 2021 Broward vs. Miami Showdown @ Nova High School
5PM:
Players Arrive
5:15 – 5:35:
Broward Team BP in Cages
5:35 – 5:55:
Miami Team BP in Cages
6:05:
Warm up Arms
6:20:
Broward Team Infield/Outfield
6:35:
Miami Team Infield/Outfield
7PM:
Player Intros and National Anthem
7:10:
Game Time!
Sunday, June 10th – Class of 2019 Broward vs. Miami Showdown @ Nova High School
12:30:
Players Arrive
12:45 – 1:05:
Broward BP in Cages
1:05PM – 1:25:
Miami BP in Cages
1:35:
Warm up Arms
1:50:
Broward Team Infield/Outfield
2:05:
Miami Team Infield/Outfield
2:30:
Player Intros and National Anthem
2:40:
Game Time!
Sunday, June 10th – Class of 2020 Broward vs. Miami Showdown @ Nova High School
5PM:
Players Arrive
5:15 – 5:35:
Broward Team BP in Cages
5:35 – 5:55:
Miami Team BP in Cages
6:05:
Warm up Arms
6:20:
Broward Team Infield/Outfield
6:35:
Miami Team Infield/Outfield
7PM:
Player Intros and National Anthem
7:10:
Game Time!
"We lost a real close one to Kings last night, and we did a few things wrong and fundamentally it cost us the game, and that was what we wanted to correct today and getting the right approach back and do the little things right," Bucs manager Jack Armstrong said. "Forest Hill is a team that really swings the bats; they can put up a crooked number as quick as any team around. So it was a matter of throwing strikes and avoiding walks, staying out of the big inning and then trying to get a few runs. We really needed a win, because any time you have a loss you want to come back and get that feeling over with."
The Bucs batted around the order in the first. After Kris Armstrong connected for a triple into the right field corner, TJ McKenzie and Paul Lanoce both walked to load the bases. Parker Haskin, Aaron Steinhart and Brian Lopes all followed with RBIs to hand starter Nate Gordon a 3-0 lead before he even took the mound for his first pitch. That offensive prowess carried over into the second. Kris Armstrong split the left-center field gap and sped around the bases perfectly to then slide safely into third with one out in the second. A throwing error then allowed him to come home. Kris also made several key plays to stretch and pick some throws to first base to help pace the defense. Even with the Bucs also playing two district games this week, they made sure not to overlook the Falcons (1-3) in this mid-week road contest. "We actually just had a talk a couple of days ago about playing every single game the very best that you can," Coach Armstrong said. "It's obvious that the district games matter more, but you cannot approach them that way. I have to approach it that way when setting up my best pitchers and lineups and so forth, but I want these guys to get ready every game they play to do all the little things right. Pick good pitches to swing at. Pitchers throw strikes. Defense backs each other up. I'm trying to get these guys machine-like in their approach so that the bigger the game gets it shouldn't matter to them." The Bucs continued their offensive trend the entire way, putting runners on base in every inning. They added a pair of runs on errors in the third, Haskin drove in another with an RBI ground out in the fourth, and Jack McCluskey crushed a shot that bounced off the left field fence for a double, before he came in on a throwing error in the fifth. Lanoce drew his fourth walk of the game and later scored on an RBI single from Steinhart in the seventh. Despite falling behind by four runs heading into the bottom of the second, Forest Hill never backed down and continued fighting for runs right to the final batter. The Falcons cut the deficit in half with a pair of runs in the second thanks to a two-RBI single from Carlos Diaz. After Carlos Fonseca lined a single to left and Anier Ricardo followed with a double to right, Diaz lined a shot past third base to send in both runners and make it a 4-2 ball game. When the Bucs responded with two more in the third, the Falcons answered in turn with another pair of runs of their own. Bryan Valdez doubled to left and Victor Ortiz was hit by a pitch, and Ricardo sent a shot deep to right field for a double that drove in both runners. Senior Nick Taplett came on in relief for Gordon, and his performance helped cool down the Falcons while allowing the Bucs to further extend their lead again. Taplett did not allow any hits, walked one and struck out five in three scoreless innings of relief. Forest Hill made one last push in the seventh. Damian Allione singled past the shortstop leading off, advanced on a wild pitch and then scored off an RBI double from Ortiz.
The approach for the Benjamin Buccaneers under new manager Jack Armstrong is to do the right thing every time out. Hungry for a victory against a tough offense in host Forest Hill, the Bucs got in a groove early on and never let up. Benjamin took the lead in the top of the first and never looked back, defeating Forest Hill 9-5 on Wednesday night. Kris Armstrong helped spark the offense with a pair of triples in his first two at bats, including a triple in the top of the first that opened up the flood gates for three runs and a lead the Bucs (3-2) never surrendered. Benjamin scored in all but one inning to keep adding to its lead, and every run proved valuable by the way the Falcons swung the bat and battled to the finish.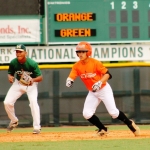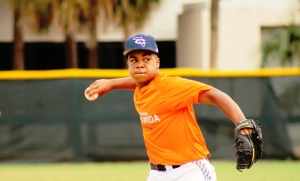 Photo Gallery
The opportunity to play on a college field provided plenty of spark for the young Futures Players competing in the HSBN All American Weekend games Sunday at Alex Rodriguez Park at Mark Light Field at the University of Miami. Performing on a grand stage in front of fans and Hurricanes coaches, the players on both sides showed just how bright the future could be should some of them end up playing there again as college athletes someday. Getting a taste of that experience fueled many players to rise to their best and seize their moment. "We are playing in front of scouts and the school in your hometown where you want to play someday," said iMater freshman catcher Roberto Moya. While many participants call South Florida home, numerous others came from further away to enjoy this chance to play at this stadium and compete with the other HSBN Futures Players.
"I got to see different talent from everyone and it was just a learning experience for me," said Justin Turk, who came from Steinbrenner High in the Tampa area. "The coaches got to see us and it was a great experience for me to get to show my talent."
Following a weekend that began with a home run derby presented by the POWER SHOWCASE, followed by workouts at St. Thomas University, players converged at UM for Sunday's live games. The day began with two contests from the HSBN Futures Stars groups.
Green Team 2, Orange Team 0
Despite flirting with danger all game long, the Green team managed the shutout even though the Orange squad collected eight hits. The Orange team only put two runners past second base and struggle against the Green's pitching throughout. Mater Academy's Ramses Hernandez got things going with three strikeouts in the first inning and then an RBI double in the second that gave his team the lead. Hernandez allowed consecutive singles to Archbishop McCarthy's MC Sagaro and SLAM's Anthony Nunez before working out of the threat. After Archbishop McCarthy's JM Fay singled up the middle and advanced on a fielder's choice, Hernandez sent a liner into the left-center field gap.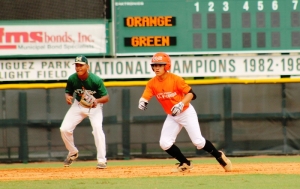 "It was a great experience for me and I hope I can do the same again next year," Hernandez said. "This was the best experience of my life." South Miami's Michael Cabo came home for an insurance run in the seventh. After reaching on an error, Cabo advanced thanks to a double from Southridge's Henry Wallen, then scored on an RBI single from Mater Academy's Alex Aguila. The Orange team's pitching staff was also tough to hit off to keep them in the game. Coral Reef freshman Victor Mederos turned the most heads with a fastball that reached as high as 92 miles per hours during a scoreless inning in which he struck out the side. Merritt Island's Chase LeBlanc, Coral Park's Julio Silva, Carlos Rodriguez and St. Brendan's Kevin Martin all picked up two strikeouts during their respective innings of work. Both sides also flashed some nice defensive abilities. Enjoying the advantage of the immaculate playing surface at the Miami Hurricanes' home, players were fearless in diving and going all-out to make a play. "It was a great experience playing at the University of Miami and it's an honor," said FLVS's Matthew Corlew, who made several impressive plays Sunday. "I was just going out there having fun and letting loose. I don't try to think too much about it; just go out there and do what I do. It is a joy and everybody is going crazy and slapping me high five. I love it."
Gray Team 5, Maroon Team 0
Eleven pitchers took a turn for the Gray squad and they all kept the shutout going for nine full innings. They combined to throw 91 pitches in all and watched nine batters strike out against them. "It was a great experience overall and I caught nine innings," said catcher Roberto Moya, who was behind the plate the whole way on Sunday to do his part in the shutout. "The pitchers looked great and we had a lot of fun, and there was no pressure. We played with no pressure and the weekend was great overall. The guys are nice and the coaches are friendly. They give you the chance and all you have to do is take the opportunity and take advantage of it." Florida Christian's Matt Fernandez led the way for the pitchers, striking out the side in his inning of work. John I. Leonard's Jordan Diaz, Falcon Cove's Jeremy Hernandez and SLAM's Chris Velasquez all tossed perfect 1-2-3 innings.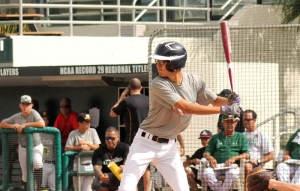 The Gray team took the lead in the fourth. Belen Jesuit's Gaby DeZendegui singled on a chopper past the shortstop, stole second and then advanced to third on a passed ball. Jordan Diaz followed with an RBI groundout that plated DeZendegui for the 1-0 lead. They added some insurance runs with two apiece in the seventh and eighth innings. Chris Velasquez singled up the middle and scored on an RBI from Glades' Derek Bermudez, and Moya reached on an error and scored in the seventh. American's Christian Carratala added a two-RBI single that plated Southridge's Brandon Cabrera and Falcon Cove's Jeremy Hernandez. The Maroon squad managed just four scattered hits by Belen Jesuit's Joshua Salandy, IMG Academy's Trip McKinley, Pompano Beach's Josue Zuany and Calvary Christian's Thomas White. "This felt like I made it to the next level and I want to play here and continue to play here," Salandy said. "I adjusted pretty quickly to the coaches; they were just there to aide us and get us ready to run on the bases. I got a lot of at bats and it was pretty good."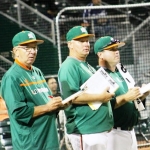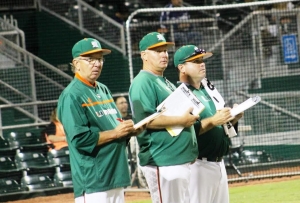 Photo Gallery
The HSBN All American Weekend concluded with games played at Alex Rodriguez Park at Mark Light Field on the University of Miami campus all throughout the day on Sunday. Following two Futures contests early in the day, the All American players took their turns in two evening contests. With four rosters of 25 players all close to high school graduation and college competition, the games served as a great opportunity at the college playing experience while performing in front of fans, scouts and Hurricane coaches.
Black Team 6, Red Team 4
The Black Team A jumped to a lead early on and held it the rest of the way. The victors meshed well in all phases to deliver a solid overall performance for the fans and Hurricanes coaching staff in attendance. The Red team bounced back from some early struggles and battled within one run of tying things up late before running out of swings, providing exciting action on both sides all throughout. South Broward's Yordan Maldonado set the tone with a scoreless first inning that included two strikeouts for the Black team, and the offense responded with its first swings. Southwest Miami's Danny Cruz reached on an error and then scored off an RBI double into the right field corner from Columbus' Albert Espinosa, who then also came in thanks to an RBI single to right from Douglas' Jacob Stanley. An inning late the Black club pushed it to a 5-0 advantage, as the first three batters all reached base and scored. Douglas' Jonathan Strauss sent a high chopper up the middle for a leadoff single, Western's Weylin Cleri reached on a fielder's choice and South Dade's Willy Escala loaded the bases with a single through the left side. For Escala it is the first of what could be many career hits at this field, as the senior is committed to play for the Hurricanes after he graduates this year.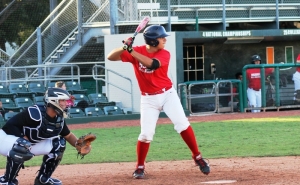 Solid execution with runners on base led to the first run of the inning, as Archbishop Carroll's Rey Gonce got a grounder to the right side for a 4-3 RBI that plated Strauss. Monsignor Pace's Alec Sierra followed with an RBI single to center and a throwing error allowed Escala to also score. Douglas' left-hander Brandon Kaminer struck out four over two scoreless innings that kept Team A in control, before the Red team got on the scoreboard in the fourth. Florida Christian's Danny Vazquez reached on a single deep to the shortstop, advanced on a throwing error and then stole third base to get within ninety feet of the plate. Royal Palm Beach's Tarik Latchmansingh exemplified his clutch-hitting with a sharp liner through the left side of the defense for an RBI single. The Red team made it interesting again by narrowing the gap in the seventh. Doral Academy's Brian Perez reached on an infield single, Miami Brito's Onelio Perdomo and Danny Vazquez both singled to left to load the bases. Mater Academy's Luis Diaz delivered a dagger with a shot deep to right field for a bases-clearing, three-run double that brought it to a 5-4 ball game. Jacob Stanley provided exactly the response that the Black squad needed by striking out the side on just nine pitches in eighth inning. Monsignor Pace's Alec Sierra surrendered a single to Miami Country Day's Austin Pollack in the ninth, but managed to work around the threat to strike out a pair and end the contest. The Black team added one last run in the eighth. St. John Paul II's PJ Cimo lined a shot just past the outfielder and showed off some nice base running awareness to race around the bags for a standup triple. A wild pitch then allowed Cimo to come in for the final run of the game. The Red pitching staff delivered a gutsy performance, as three pitchers combined to split the time on the mound. Atlantic's Maxwell Charnin struck out four in three innings, South Dade's Jimmy Galvis struck out three in three scoreless innings and Onelio Perdomo recorded two strikeouts over two innings.
Gold Team 3, Navy Team 1
A two-run fourth inning combined with strong pitching performances led the Gold Team D to a 3-1 victory over the NAVY Team C in Sunday night's finale. With hits at a premium against a seemingly endless stream of talented arms, the Gold club scored a pair of unearned runs to add to its early lead with the deciding margin. Varela's Andres Artola and Archbishop McCarthy's AJ Hendricks both reached on errors to start the top of the fourth inning, with Artola crossing the plate as Hendricks cruised into second base on a throwing error. Two batters later, John I. Leonard's Angel Diaz singled to left field to drive in Hendricks for a 3-0 lead.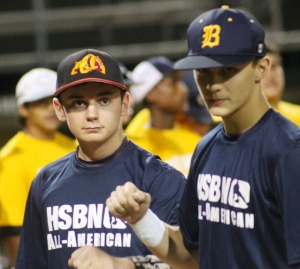 The Gold squad grabbed the lead right away in the first inning. Doral Academy's Erick Orbeta reached on an error and then came home thanks to an RBI double from Santaluces' MJ Restivo that split the left-center field gap. Team D held the lead the rest of the way, even despite low offensive production that saw only one more hit on a bunt single from Orbeta in the fifth. Palmetto's Matthew Turner set the tone on the mound for the Gold, throwing two scoreless innings and striking out five batters while throwing 16 of 22 pitches for strikes. Tuner's only base runner allowed came on an error leading off the second, and he managed to work around the threat to keep the Navy team off the scoreboard. Team C ended the shutout in the fifth. Belen Jesuit's Humberto Torres doubled into the left field corner and Westminster Christian's Devin Roche drove him in with an RBI double to right field. That was as close as they got as Gulliver Prep's Adrian Del Castillo single in the eighth was the Navy team's only other base runner the rest of the way. Cypress Bay's Jake Walker helped keep the Gold staff sizzling hot by striking out the side in the fourth. John I. Leonard's Angel Diaz, MJ Restivo and Somerset Charter Academy's Edsel Vichot all tossed perfect 1-2-3 innings, Monsignor Pace's Brandon Cruz added a scoreless frame and Archbishop McCarthy's Adam Tulloch and West Boca's Alex Cordero both had two strikeouts in their respective inning of work. The Navy team also received outstanding pitching that was hurt by three unearned runs. Six different hurlers threw perfect frames, including iMater's James Montoya, Suncoast's Tyler Lavery, Lakewood Ranch's Devin Wall, Mater Academy's Joe Soto, Fort Lauderdale's Argelio Morejon and South Dade's Ricardo Sobalvarro. The staff recorded 13 consecutive outs to end the game and give the offense a chance to respond, starting from Nova's Trace Moore recording a strikeout to end the fifth and culminating with Sobalvarro punching out the final batter in the top of the ninth.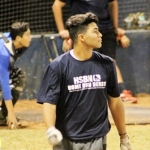 Dinner & Derby Gallery
Archbishop McCarthy freshman Albert Hernandez entered the championship round of Friday's home run derby knowing exactly what he needed to do in order to claim the title. With just two outs remaining the young slugger connected on a long shot to left field that sailed over the fence at Paul Demie Mainieri Field at St. Thomas University, and just like that Hernandez accomplished his goal. Hernandez narrowly edged West Boca junior Alex Cordero 3-2 to win the crown in Friday night's
HSBN POWER SHOWCASE derby
, which kicked off the All-American weekend festivities that will continue Saturday at St. Thomas before moving to Alex Rodriguez Park at the University of Miami on Sunday. Hernandez also earned four of the five awards for his performance, adding the awards for the most consecutive, most preliminary round and most overall home runs. Hernandez also earned himself a complimentary invitation to the eleventh annual International POWER SHOWCASE, which will be held at Miami Marlins Park December 27-30th.
"Coming out and winning this here with the crowd we had tonight was a great feeling," Hernandez said. "It was relieving to hit that because I was kind of nervous at first because I was already at eight outs with only two home runs and I thought I wouldn't get the third one up there. But I pulled through and got the third one out and it happened. It was nerve-wracking because almost everybody in it is older than me and there are only a few other guys in my grade here."
Royal Palm Beach senior Tarik Latchmansingh earned the other award for the longest home run, a blast that traveled 400 feet and helped him advance to the championship round with three first-round longballs. Alex Cordero had four in the opening round and six overall, and Columbus' Albert Espinosa, Westminster Christian's Luis Aviles and Monsignor Pace's Brandon Cruz all also advanced to the final round with three homers each. Hernandez was one of the final hitters to take his turn in the preliminary round, where he then put on a show with five "no-doubter" drives to move himself to the top of the leaderboard heading into the finals.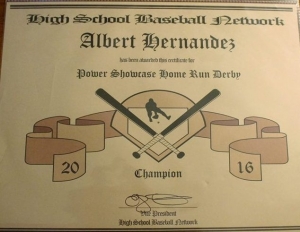 "I was anxious to get into that batter's box, but it was fun watching everyone else hit and get their hacks in too and see how far they hit the ball," Hernandez said. "It was a fun show to watch, not just saying so about myself. In all it was a great experience to be a part of and hopefully those swings carry on going into the combine and the games tomorrow. I just hope for the best tomorrow and I wish everybody luck." The event was the perfect experience to start off the weekend. POWER SHOWCASE President Brian Domenico worked the two-wheeled jugs pitching machine in an open-bat format all night, while volunteer catchers Jonathan Roach and Juaquin Monque split time behind the plate and numerous volunteers shagged fly balls for each of the 22 participants. After arriving for a complimentary dinner followed by team meetings and jersey presentations, participants and their families were treated to the derby that capped off the evening.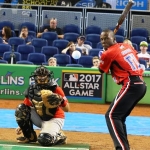 The first High School Baseball Network All-American Weekend kicks off tonight with what shapes up to be a thrilling home run derby presented by the POWER SHOWCASE World Classic. Prior to participating in workouts and games later on this weekend, a collection of 18 talented sluggers will compete in the prestigious derby. Over the past eleven years the
POWER SHOWCASE
has evolved to provide one of the best amateur baseball experiences around, allowing ball players from all ages to showcase their tools and talents. The POWER SHOWCASE World Classic is an elite competition in a Major League stadium at Miami Marlins Park in front of an international audience. It is a terrific vehicle for player's careers that creates positive lasting memories for everyone involved. Current professional stars like Bryce Harper, Kris Bryant and Anthony Rizzo have previously taken part in the POWER SHOWCASE.
"This is the third HSBN derby that we have done together, and I am very excited to be a part of the tremendous growth of HSBN and the addition of the All American Weekend," Domenico said. "HSBN does an incredible job of promoting players and they are going above and beyond to maximize the exposure to college coaches through this event."
Friday's derby serves as a mini-showcase that will also bring out the voice of HSBN, Luis Perez announcing and running the scoreboard just as he will for the events all weekend long. Participants will hit off a two-wheeled jugs pitching machine in an open-bat format, which means the old BESR bats are allowed. POWER SHOWCASE founder and President Brian Domenico will feed the machine baseballs all night, as he typically does at the showcases each year. Each player will receive 13 outs in the preliminary round, with the top three moving on to the finals. The finalists will receive 10 outs each. Tonight, there will be five award certificates handed out for longest home run, consecutive home runs, most homers hit during preliminary round, and overall home run total. The overall winner of Friday's derby gets an automatic invitation to the 11th annual POWER SHOWCASE World Classic at Marlins Park from December 27-30th. For those who were not able to secure their spot in the HSBN Derby tonight, or do not win, all is not lost. There are still a few spots available in the Babe Ruth Classic game for players in the 2019-2020 classes. If interested contact Brian Domenico at (561) 271-7247 or powershowcase@att.net. Tonight, players will arrive early throughout the evening tonight for welcome dinners and meetings with their coaches, as the first step in the
schedule
of weekend events. The weekend will then ramp up the energy and excitement heading into Saturday's workouts and Sunday's games. Leading the group of contenders is Royal Palm Beach senior Tarik Latchmansingh, whose 13 career high school home runs leads the field of contenders. Latchmansingh has also previously participated in several POWER SHOWCASE events and has experience hitting off the pitching machine. West Boca's Alex Cordero and McArthur's Jack Bermudez have also shown strong power numbers in their high school careers and could threaten for the title. Yet nothing is guaranteed and anything is possible for the hitters who swing away aiming for the fences at Paul Demie Mainieri Field at St. Thomas University.
HSBN Power Showcase Home Run Derby Participants and order of Appearance:
1,
Ricardo Sobalvarro
– South Dade – 3B/P – Class of 2017 2. Albert Espinosa – Columbus – C/1B – Class of 2019 3.
Jose Lima
– Coral Shores – 3B/1B – Class of 2017 4.
Maxwell Romero
– Pembroke Pines Charter – C/OF – Class of 2019 5.
Alex Cordero
– West Boca – 1B/P – Class of 2018 6.
Tarik Latchmansingh
– Royal Palm Beach – 3B/1B – Class of 2017 7. Andrew Fernandez – Heritage Christian – 2019 8.
Luis Aviles
– Westminster Christian – C/OF – Class of 2017 9.
David Munoz
– Homestead – C/3B – Class of 2018 10. Jefferson Casillas – Apopka – 2019 11.
Santos Grande
– Monsignor Pace – 3B/1B – Class of 2017 12.
Brandon Cruz
– Monsignor Pace – 1B/DH – Class of 2017 13.
Kristopher Soto
– Florida Christian – 2018 14.
Nick Deegan
– Palmetto – OF/3B – Class of 2017 15.
Cameron Husing
– Atlantic – C/1B – Class of 2017 16.
Jack Bermudez
– McArthur – 3B/1B – Class of 2017 17. Josue Zuany – Pompano Beach – 2020 18. Robert Moya – iMater – 2020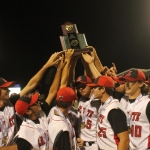 Photo Gallery
Lafayette manager Tim Hanson could not believe the incredible journey his team had just completed. Making its second appearance in the state tournament in the past three seasons, the Hornets accomplished the ultimate goal by winning the championship. Behind a complete-game shutout from starter Zach Yeager Lafayette won 2-0 over Chiefland in the Class 1A state championship Thursday night at jetBlue Park in Fort Myers. Two years ago the club was blanked in a mercy-rule defeat to be sent home in the semifinal, and that same group had fallen just short in returning last season. This year featured a different group, and although the expectations were not placed on them to do so, they found their groove and boogied all the way to a celebration dance holding the state trophy.
"We always look to the state tournament, certainly, but I did not see this coming," Hanson said. "To watch the kids at the end of the game is priceless. You'll never be able to replace that. The community really traveled down too. It's about a five hour drive to come here but the people decided to come out and watch."
With only five seniors and just as many underclassmen on the squad, Lafayette (23-6) lacked the experience of the previous few squads. But that did not stop this group from working together to reach their goal. "We started off pretty good and got into district play, where Madison moved down into our district and they beat us 16-1 in two games," Hanson said. "We ended up coming back and beating them in the district tournament. It was the same rotation: Micah Byrd got us to the championship game and Zach won it. Then we went first round with Micah in the regionals and Zach finished it up, first round in states with Micah and Zach finished it up. We stayed with it and it worked. But it's been a journey, no doubt." A night after winning big over Central to advance to the state championship for the second time in program history, it was Yeager's turn to finish the job and complete the dream. The right-hander proved up to the task by working efficiently to stymie the Indians' lineup. Yeager scattered three hits and four walks and struck out a pair, including a strikeout against the final batter that ended the night and triggered the celebration. Following a Gatorade shower compliments of his excited players, Hanson could not help but grin and enjoy the moment his guys had earned for themselves. "The kids are great," Hanson said. "They work their butts off and they are great kids too. I know the community is very proud of them. Not only do they come to practice every day and work but they are super kids. I love being around them. Win or lose tonight I was going to be just as proud." Those fans that made the journey were rewarded with an early lead that helped fuel the excitement. In the bottom of the second inning Calb Land reached on an infield single, Bryson Bracewell dropped down a sacrifice bunt to move him to second and Coley Hingson pushed Land to third after getting the ball on the ground to the right side for a 4-3 groundout. Kayne Hurst then delivered a single up the middle to send Land the final 90 feet home for a 1-0 lead. Backed with a lead, Yeager excelled at getting fly balls that were easily handled by his defense. Chiefland (24-5) had 14 flyouts and struggled to get any offense going. The Hornets added an insurance run in the bottom of the sixth. Byrd walked and was replaced by pinch-runner Kerby Hanson. Kerby stole second base and then raced around and scored thanks to an RBI single up the middle from Mason Herring.